A new court filing revealed Thursday, from Michael Flynn's legal team, alleges that former FBI agents manipulated official records of former national security adviser, Michael Flynn's 2017 interview, which led to him to be charged with lying to investigators.
Sidney Powell, Flynn's attorney, filed a 37-page motion on Thursday, outlining several big allegations, once again requesting the government produce all evidence as it relates to Flynn — urging the court to "dismiss the entire prosecution for outrageous government misconduct" and hold the prosecutors in contempt, Fox News reported.
Michael Flynn's case is about when he was asked about his conversations with former Russian Ambassador Sergey Kislyak, to which he pleaded guilty to making false statements regarding those conversations during his interview.
Sidney Powell, however, claims that FBI officials manipulated Flynn's FBI 302, which is a form used by agents to summarize interviews. It's not clear who may have done the alleged editing, though ex-FBI agent Peter Strzok was involved in the original interview.
"Those changes added an unequivocal statement that 'Flynn stated he did not' — in response to whether Mr. Flynn had asked Kislyak to vote in a certain manner or slow down the UN vote [on sanctions]," Powell wrote. "This is a deceptive manipulation because, as the notes of the agents show, Mr. Flynn was not even sure he had spoken to Russia/Kislyak on the issue. He had talked to dozens of countries."
Powell also alleged that agents added: "or if Kislyak described any Russian response to a request by Flynn." She wrote, "That question and answer does not appear in the notes, yet it was made into a criminal offense. The draft also shows that the agents moved a sentence to make it seem to be an answer to a question it was not." (Continued Below)
Powell raised concerns about text messages between Strzok and former FBI lawyer Lisa Page days following the publication of the salacious anti-Trump dossier, which was funded by the Clinton campaign and the Democratic National Committee through law firm Perkins Coie, Fox News reports.
The filing said as the dossier spread throughout the media, "Strzok wrote to Page: 'Sitting with Bill watching CNN. A TON more out…We're discussing whether, now that this is out, we can use it as a pretext to go interview some people.'"
"In the next two weeks, there were 'many meetings' between Strzok and [former Deputy FBI Director Andrew] McCabe to discuss 'whether to interview National Security Adviser Michael Flynn and if so, what interview strategies to use,'" the document notes. (Continued Below)
From Fox News:
Powell alleged that on Jan. 23, 2017- the day before the FBI interviewed Flynn at the White House- "the upper echelon of the FBI met to orchestrate" strategies that would have Flynn talk "in such a way as to keep from alerting him from understanding that he was being interviewed in a criminal investigation of which he was the target."
"In short, they planned to deceive him about the entire scenario, and keep him 'unguarded,'" Powell said.
Powell went on to allege that, at former FBI Director James Comey's direction, McCabe "personally called Flynn to pave the way for the uncounseled conversation."
While saying "Comey and McCabe were executing their own agenda—not investigating a crime," she continued to claim the government is hiding evidence "of the original 302, other exculpatory texts, and other forms of information completely."
Powell is also hammering the FBI and DOJ over media leaks, citing a text message from Strzok to Page in April 2017: "I had literally just gone to find this phone to tell you I want to talk to you about media leak strategy with DOJ before you go," per Fox News.
Powell also referenced a purported conversation between former Director of National Intelligence James Clapper and Washington Post reporter David Ignatius, claiming Clapper told the reporter "words to the effect of 'take the kill shot on Flynn,'" after he reportedly obtained the transcript of Flynn's phone calls. (Continued Below)
Sidney Powell's filing in the Flynn case; partial screenshots of motion courtesy of Techno Frog:
Lisa Page edited the Flynn 302. James Clapper told WaPo reporter Ignatius to basically "take the kill shot on Flynn":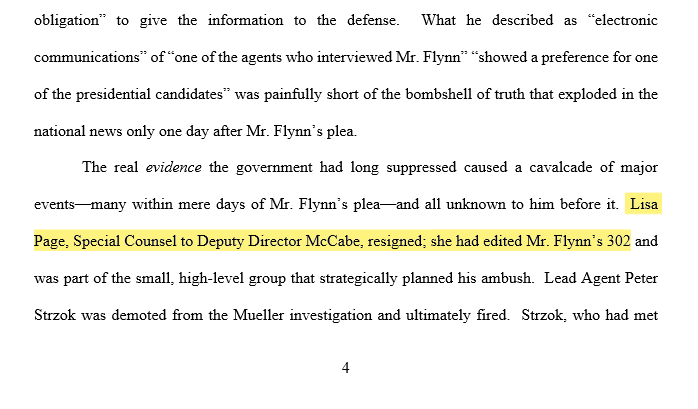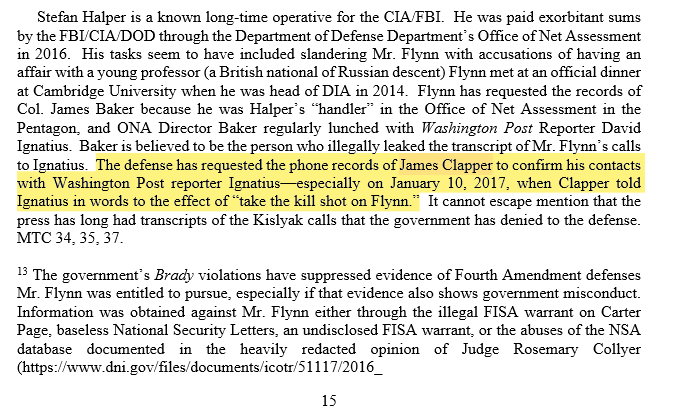 Included: new Page/Strzok texts. Discussion between Lisa Page and Peter Strzok re: editing the Flynn 302. Strzok to Page: "I made your edits". Also discussion of misleading leadership re: picking up 302.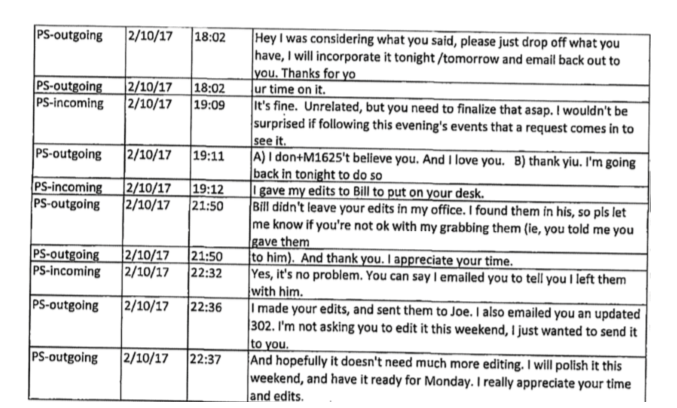 Page/Strzok texts also include this post-Flynn interview analysis of Strzok. This appears to confirm they left the interview thinking Flynn didn't lie.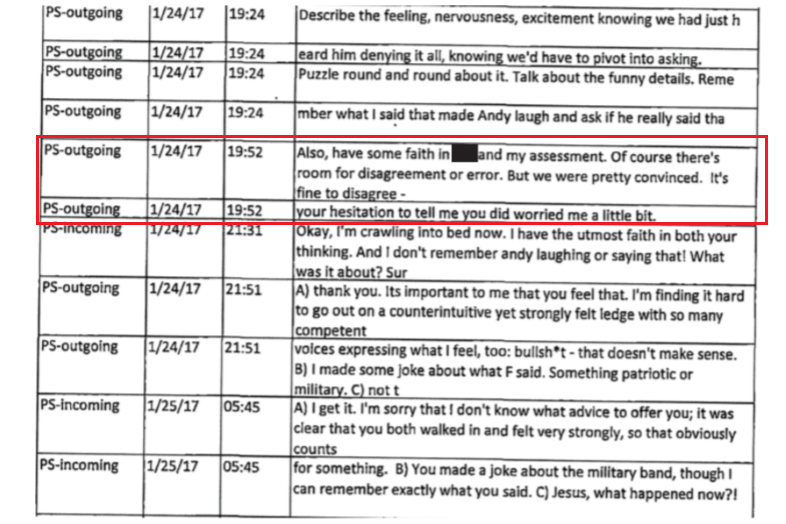 Manipulation of the Flynn 302 — two weeks after the interview. (1/24/17 vs 2/10/17; timeline key.) Agent notes say Flynn wasn't sure he spoke to Kislyak on the UN vote. The 302 says different.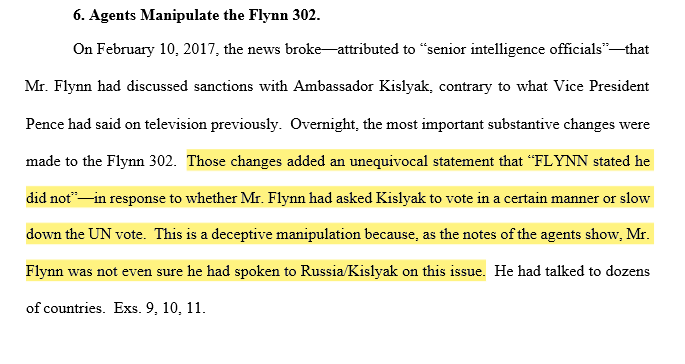 (Continued Below)

More on the 302: They added Kislyak's description of any Russian response to a request from Flynn. Powell: "That question and answer do not appear in the [agent] notes".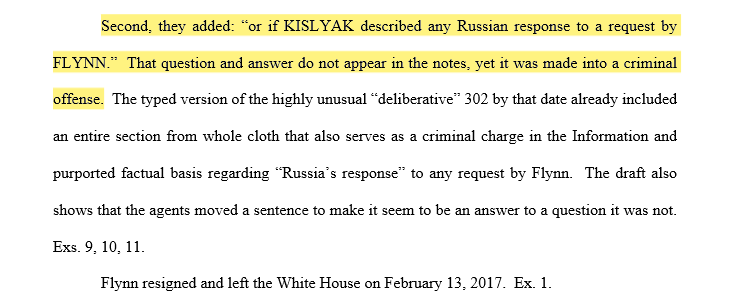 Identification of the (felony) leaker of the Flynn-Kislyak call? ONA Director Col. James Baker "is believed to be the person who illegally leaked the transcript of Mr. Flynn's calls to Washington Post reporter: Ignatius".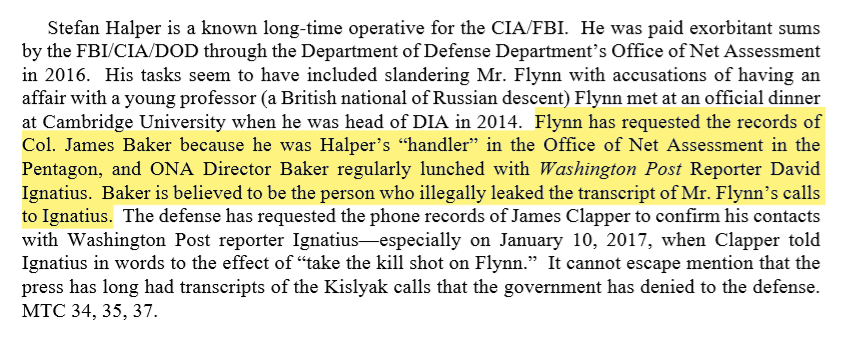 The Flynn 302 doesn't even match the FBI Agents' notes. Agent Notes: "I don't remember making 4-5 calls." 302: "Flynn remembered making four to five calls that day about this issue."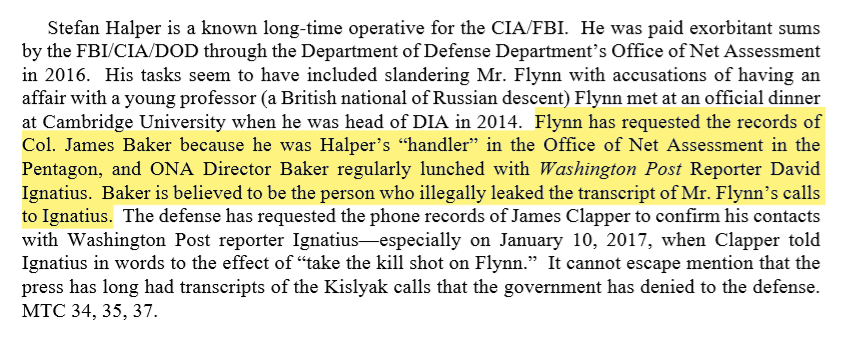 Lisa Page lied to the DOJ about her edits to the Flynn 302. "Page didn't recall whether she took part in editing the FD-302" Upon seeing her texts, she "believes she must have seen it at some point…"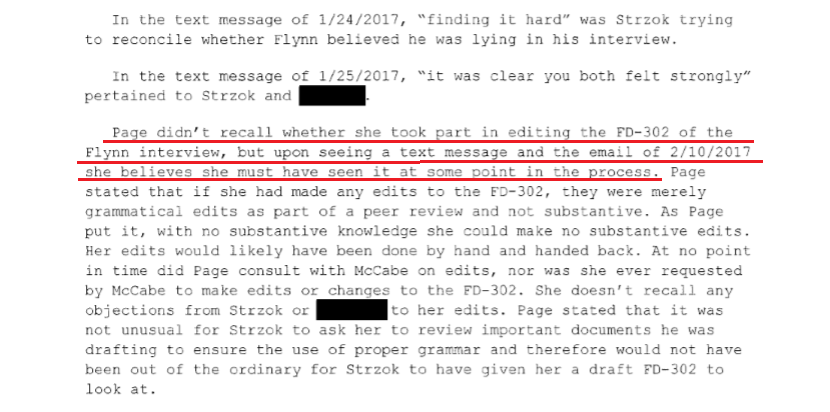 Read the full motion here:
US v Flynn; DE 129-2 by Techno Fog on Scribd