On Monday, U.S. District Judge Emmet Sullivan, appointed by former President Bill Clinton, scheduled General Michael Flynn to face sentencing on January 28, 2020, after a case stemmed from the special counsel's investigation. Sullivan rejected Flynn's allegations that he was entrapped by the FBI and forced into entering a plea deal.
In October, Flynn's defense attorney, Sidney Powell, filed a 37-page motion alleging that former FBI agents manipulated official records of the former national security adviser's 2017 interview, which led to him to be charged with lying to investigators.
Michael Flynn to face sentencing on January 28, 2020: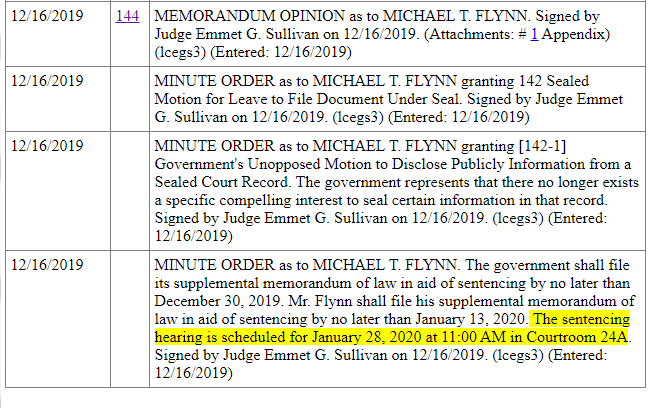 Judge Emmet Sullivan ruled that Flynn had failed to prove that any of the material that the government did not give to his lawyers would have affected his decision to plead guilty.
"The sworn statements of Mr. Flynn and his former counsel belie his new claims of innocence and his new assertions that he was pressured into pleading guilty to making materially false statements to the FBI," wrote Sullivan.
"And it is undisputed that Mr. Flynn not only made those false statements to the FBI agents, but he also made the same false statements to the Vice President and senior White House officials, who, in turn, repeated Mr. Flynn's false statements to the American people on national television," Sullivan added. (Continued Below)
Sidney Powell claimed in the motion in October that FBI officials manipulated Flynn's FBI 302, which is a form used by agents to summarize interviews. It's not clear who may have done the alleged editing, though ex-FBI agent Peter Strzok was involved in the original interview. [Emphasis added].
"Those changes added an unequivocal statement that 'Flynn stated he did not' — in response to whether Mr. Flynn had asked Kislyak to vote in a certain manner or slow down the UN vote [on sanctions]," Powell wrote. "This is a deceptive manipulation because, as the notes of the agent's show, Mr. Flynn was not even sure he had spoken to Russia/Kislyak on the issue. He had talked to dozens of countries."
Powell also alleged that agents added: "or if Kislyak described any Russian response to a request by Flynn." She wrote, "That question and answer does not appear in the notes, yet it was made into a criminal offense. The draft also shows that the agents moved a sentence to make it seem to be an answer to a question it was not." (Continued Below)
Powell had raised concerns about text messages between Strzok and former FBI lawyer Lisa Page days following the publication of the salacious anti-Trump dossier, which was funded by the Clinton campaign and the Democratic National Committee through law firm Perkins Coie, Fox News reported.
The filing said as the dossier spread throughout the media, "Strzok wrote to Page: 'Sitting with Bill watching CNN. A TON more out…We're discussing whether, now that this is out, we can use it as a pretext to go interview some people.'"
"In the next two weeks, there were 'many meetings' between Strzok and [former Deputy FBI Director Andrew] McCabe to discuss 'whether to interview National Security Adviser Michael Flynn and if so, what interview strategies to use,'" Fynn's defense noted.
Powell also referenced a purported conversation between former Director of National Intelligence James Clapper and Washington Post reporter David Ignatius, claiming Clapper told the reporter "words to the effect of 'take the kill shot on Flynn,'" after he reportedly obtained the transcript of Flynn's phone calls.
Flynn pleaded guilty December 1, 2017, to making false statements during the January 24 interview with FBI agents regarding his contacts with former Russian ambassador Sergey Kislyak. (Continued Below)

Judge Sullivan denies General Flynn's motion to compel Brady material:
This is how Mueller team leader (now Flynn prosecutor) Brandon Van Grack operated:

Van Grack knew of the FISA lies.

He secured the Flynn plea at all costs – and uses the plea to protect the FBI/DOJ against accusations of misconduct. pic.twitter.com/Xpu8kBLNN0

— Techno Fog (@Techno_Fog) December 16, 2019
The IG Report proves a blatant suppression of Brady material by FBI & Mueller Team. Flynn was targeted LONG before his appointment without just cause. The government hid this information, drug out his legal fees, & then threatened his son to compel a plea – Altered 302's & more!

— PrometheusIV (@PrometheusIV) December 16, 2019
Judge Sullivan's opinion:
Sullivan Memorandum Opinion by Techno Fog on Scribd
Related: Hannity RIPS Comey & Co. For Setting Up Flynn & Ruining His Reputation: 'What A Jackass')