Senate Majority Leader Mitch McConnell (R-KY) released a statement Saturday after House Democrats, led by Speaker Nancy Pelosi (D-CA), rushed back to Congress to vote on a $25 billion funding bill for the United States Postal Service (USPS), which Democrats claim is needed to prevent President Trump from trying to "destroy" the Post Office before the 2020 mail-in election.
The "Delivering for America Act" passed in the Democratic-led House Saturday 257-150, with 26 Republicans joining their colleagues.
---
Democrats called the rare "emergency" session in the middle of the summer recess because they contend President Trump and new Postmaster General Louis DeJoy are trying to sabotage the 2020 election by delaying service that could compromise mail-in ballots during the coronavirus pandemic, Fox News reported.
Republicans dismissed the Democrats' election concerns as a "conspiracy theory", and also pointed out that the Post Office is not in a crisis and can handle any uptick in volume from mail-in ballots, noting the Post Office has $14 billion in available cash and access to a $10 billion loan from the Department of Treasury.
The legislation, however, is not expected to go anywhere and the Republican-led Senate has no plans to take up the bill. Additionally, the White House issued a veto threat on Friday saying that the USPS doesn't need a $25 billion bailout.
The Commander in Chief slammed Pelosi's $25 billion funding bill as a "hoax" and suggested the "unneeded dollars" is "for political purposes". Continued Below
---
"Representatives of the Post Office have repeatedly stated that they DO NOT NEED MONEY, and will not make changes. This is all another HOAX by the Democrats to give 25 Billion unneeded dollars for political purposes, without talking about the Universal Mail-In Ballot Scam that they are trying to pull off in violation of everything that our Country stands for," President Trump tweeted.
"Vote NO to the Pelosi/ Schumer money wasting HOAX which is taking place now. Then fight the $51 million unasked for Ballots. Only ABSENTEE BALLOTS are acceptable!" he added.
Meanwhile, Senate Majority Leader Mitch McConnell released a statement Saturday after Democrats passed their bill, saying "they rushed back to Washington the instant that overblown conspiracy theories about the U.S. Postal Service convinced them their own jobs might be in jeopardy." Continued Below
---
Senate Majority Leader Mitch McConnell released the following statement: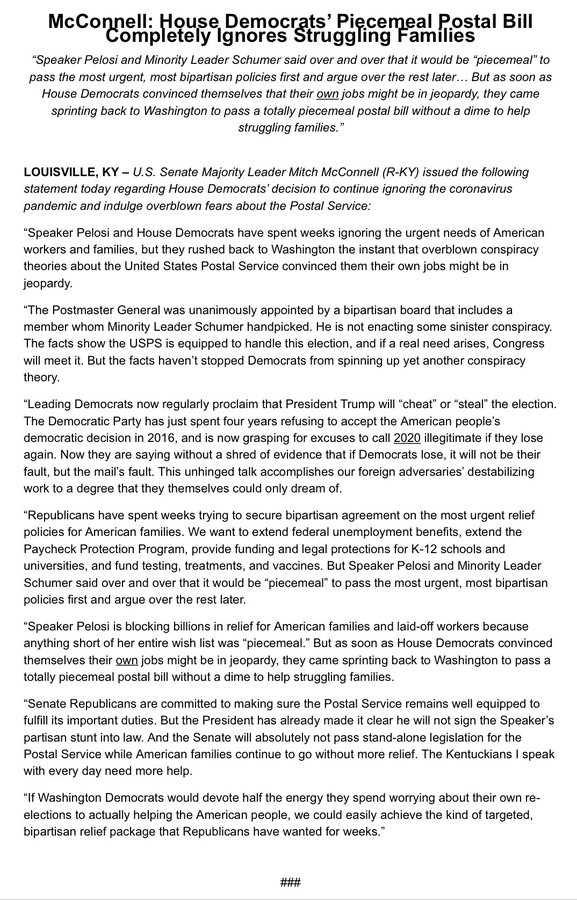 President Donald Trump's official tweet:
….that they are trying to pull off in violation of everything that our Country stands for. Vote NO to the Pelosi/ Schumer money wasting HOAX which is taking place now. Then fight the $51 million unasked for Ballots. Only ABSENTEE BALLOTS are acceptable!

— Donald J. Trump (@realDonaldTrump) August 22, 2020
---
We leave you with House Minority Leader Kevin McCarthy, who slammed the Democrats while speaking on the House floor on Saturday:
(Related: Rep. Jordan: "Why Are We Voting On The Bill Today But Not… Hearing From The Postmaster General Until Monday?")