House Speaker Nancy Pelosi (D-CA) visited a San Francisco hair salon on Monday afternoon for a wash and blow-out, despite local ordinances keeping salons closed amid the coronavirus pandemic, Fox News reported.
In security footage obtained by Fox News, the California Democrat is seen walking through eSalon in San Francisco with wet hair, and without a mask over her mouth or nose.
---
Security footage shows House Speaker Nancy Pelosi visiting a San Francisco hair salon:
No Mask Nancy!

"Pelosi used shuttered San Francisco hair salon for blow-out, owner calls it 'slap in the face'" https://t.co/vUfa9fsCsT pic.twitter.com/zd4v7EqUVP

— Trump War Room – Text TRUMP to 88022 (@TrumpWarRoom) September 1, 2020
---
As reported by Fox News:
Salons in San Francisco had been closed since March and were only notified they could reopen on Sept. 1 for outdoor hairstyling services only.
Salon owner Erica Kious, in a phone interview with Fox News on Tuesday, shared details of Pelosi's visit. Kious explained she has independent stylists working for her who rent chairs in her salon.
"One of the stylists who rents a chair from me contacted me Sunday night," Kious said.
A screengrab of the text message she received from one of her stylists, and obtained by Fox News, said: "I'll be there at 2:45 tomorrow. Pelosi assistant just messaged me to do her hair", to which Kious replied: "Pelosi?"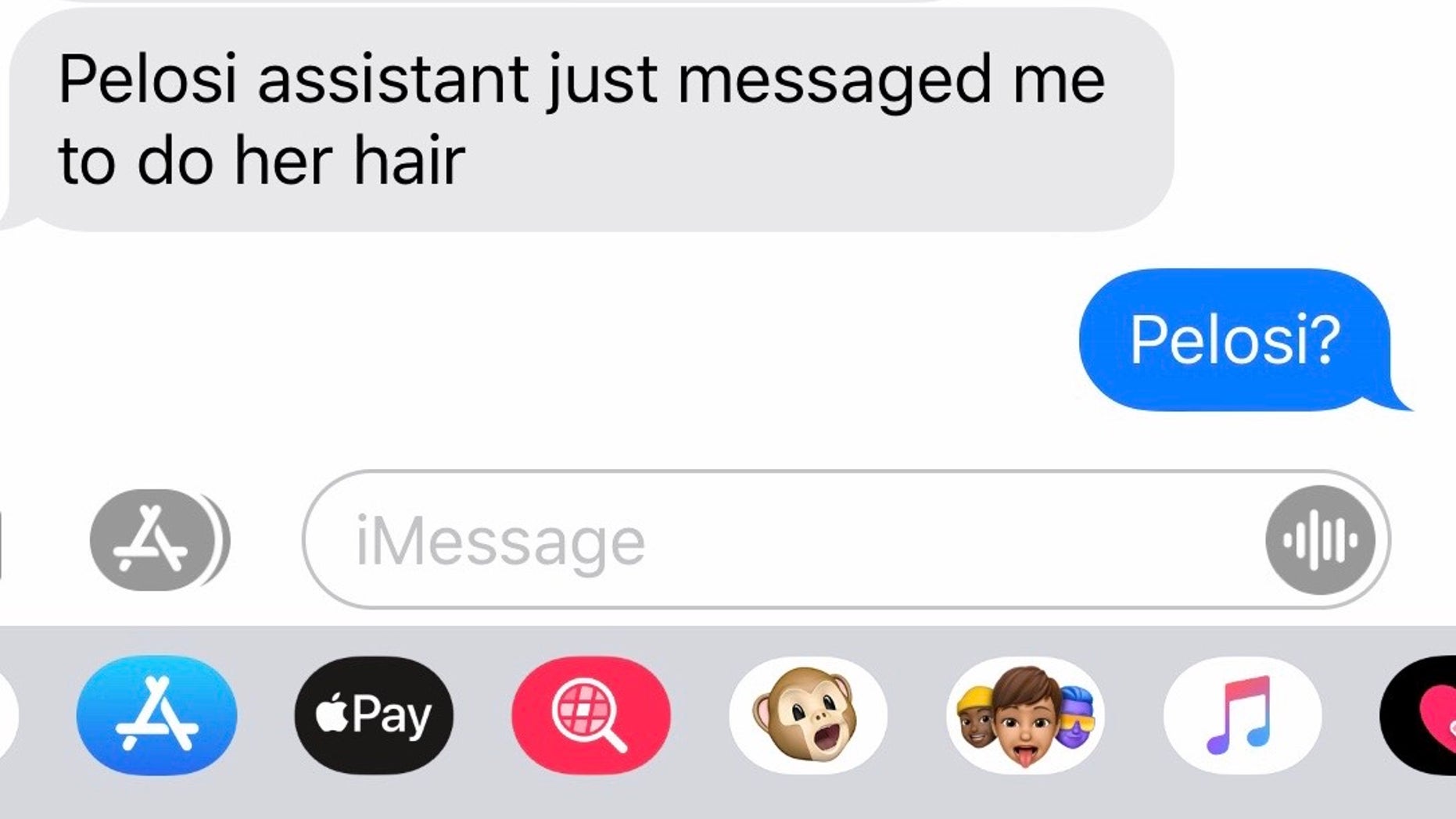 "I was like, are you kidding me right now? Do I let this happen? What do I do?" Kious told Fox News, while noting that she "can't control" what her stylists do if they rent chairs from her, as "they're not paying" at this time.
Kious cast Pelosi's visit as a double standard. "It was a slap in the face that she went in, you know, that she feels that she can just go and get her stuff done while no one else can go in, and I can't work," Kious told Fox News, adding that she "can't believe" the speaker didn't have a mask on. (From the footage, it appears Pelosi had some kind of covering around her neck.)
"We're supposed to look up to this woman, right?" Kious said. "It is just disturbing." Continued Below
---
Kious said Pelosi received a wash and a blow-dry, but told Fox News that "you're not supposed to blow dry hair" according to coronavirus safety precautions for hair salons.
"This is for everybody," she said. "I am sharing this because of what everyone in my industry, and my city, what every small business is going through right now."
Read the full report:
EXCLUSIVE: @SpeakerPelosi used shuttered San Fran hair salon for blow-out, owner calls it 'slap in the face'

In security footage obtained by Fox News, #Pelosi is seen walking through the salon Monday w/ wet hair &without a face mask over her mouth or nosehttps://t.co/pPwoR3XT3X

— Brooke Singman (@BrookeSingman) September 1, 2020
---
As a San Francisco resident, I've followed the law & done my own hair for the last 5 months. My stylist also follows the law & hasn't opened her salon all this time and is struggling. It's pretty disgusting that @SpeakerPelosi plays by different rules. https://t.co/SeqXBFD60H

— Harmeet K. Dhillon (@pnjaban) September 1, 2020
Let me get this straight… @SpeakerPelosi wants business owners ARRESTED for operating against government orders, but will also force them to open for HER when she needs a blow-out?!

The hubris on display here…https://t.co/POO6QrzBgs

— Dinesh D'Souza (@DineshDSouza) September 1, 2020
Once again, the rules are for the little people. I'm sure @SpeakerPelosi was getting her unlawful blowout "for the children," or whatever. Sorry, suffering salon owners and barbers! pic.twitter.com/UYWvJUKByb

— Guy Benson (@guypbenson) September 1, 2020
(Related: Amid Coronavirus Pandemic, Pelosi Shows Up In D.C. Outside Of The Capitol To Join Protestors)