On Sunday evening, the Chair of the Republican National Committee, Ronna McDaniel, unleased a GOP video compilation on Twitter of past statements made by Democrats in 2016 regarding the filling of a Supreme Court vacancy.
This comes as some Democratic members in Congress and in the Senate are threatening repercussions if the Republican-led Senate votes to confirm a Supreme Court Justice nominee before the November election, replacing the late Justice Ruth Bader Ginsburg.
---
In the video, former Vice President Joe Biden is seen declaring, "The American people deserve a fully staffed court of 9."
Twice failed Democratic presidential candidate Hillary Clinton said in 2106, "The president nominates and then the Senate advises and consents or not. But they go forward with the process."
House Speaker Nancy Pelosi (D-CA) is heard saying, "What we're seeing here and hope this is temporary, is a disrespect for the Constitution. … The American people expect the president's nominee to be given a fair hearing and a timely vote in the Senate."
Senator Bernie Sanders (I-VT) also said," The Constitution is 100% clear: the president of the United States has the right to nominate someone to be a Justice of the Supreme Court– Senate's function is to hold hearings and to vote." Continued Below
---
The video compilation goes on to show past statements made by Senator Tim Kaine (D-VA), Senator Patrick Leahy (D-VT), Senator Elizabeth Warren (D-MA), Senator Chuck Schumer (D-NY), and Senator Kamala Harris (D-CA), and ends by saying, "2020 Democrats should listen to 2016 Democrats".
The Commander in Chief on Saturday morning, vowed to nominate a new Justice "without delay."
"@GOP We were put in this position of power and importance to make decisions for the people who so proudly elected us, the most important of which has long been considered to be the selection of United States Supreme Court Justices. We have this obligation, without delay!" the president wrote on Twitter. Video Below
---
Senator Majority Leader Mitch McConnell (R-KY), in a statement, Friday, vowed that Republicans will move to fill the Supreme Court vacancy after Justice Ginsburg's passing.
"Americans reelected our majority in 2016 and expanded it in 2018 because we pledged to work with President Trump and support his agenda, particularly his outstanding appointments to the federal judiciary. Once again, we will keep our promise," the Senate Majority leader said in part.
"President Trump's nominee will receive a vote on the floor of the United States Senate," McConnell added.
Ronna McDaniel's official tweet:
Not long ago, Joe Biden said that "the American people deserve a fully-staffed court of nine."

We agree.

Fill the seat! pic.twitter.com/K8GpnAMEly

— Ronna McDaniel (@GOPChairwoman) September 21, 2020
Continued Below
---
Meanwhile, here are some past statements made by former President Barack Hussein Obama:
Just dug up this clip of Obama in 2016:

"When there is a vacancy on the SCOTUS, the President is to nominate someone, the Senate is to consider that nomination… There's no unwritten law that says that it can only be done on off-years. That's not in the Constitution text." pic.twitter.com/vrOi3DrkJN

— Kelb Hull (@CalebJHull) September 19, 2020
Obama in 2016:

"The Constitution says that I nominate candidates for SCOTUS when there's a vacancy… [The Senate's] job is to give this person a hearing, to show the courtesy of meeting with them. They are then free to vote whatever their conscience dictates." pic.twitter.com/6KZ02evd6J

— Kelb Hull (@CalebJHull) September 19, 2020
Continued Below
---
Obama in 2016:

"It is tempting to make this confirmation process simply an extension of our divided politics, but to go down that path would be wrong. It would be a betrayal of our best traditions. And a betrayal of the vision of our founding documents." pic.twitter.com/qa55P1uHNk

— Kelb Hull (@CalebJHull) September 19, 2020
Obama in 2016:

"I have fulfilled my Constitutional duty. Now it's time for the Senate to do theirs. Presidents do not stop working in the final year of their term. Neither should a Senator." pic.twitter.com/Je4OAL7BDo

— Kelb Hull (@CalebJHull) September 19, 2020
Continued Below
---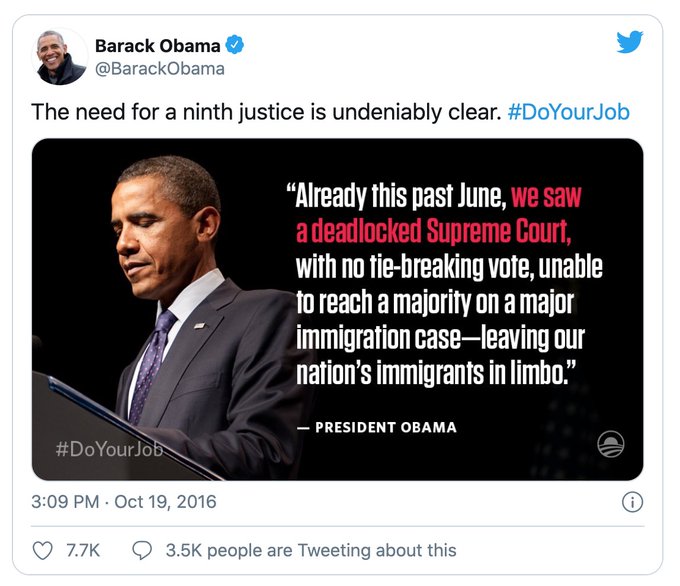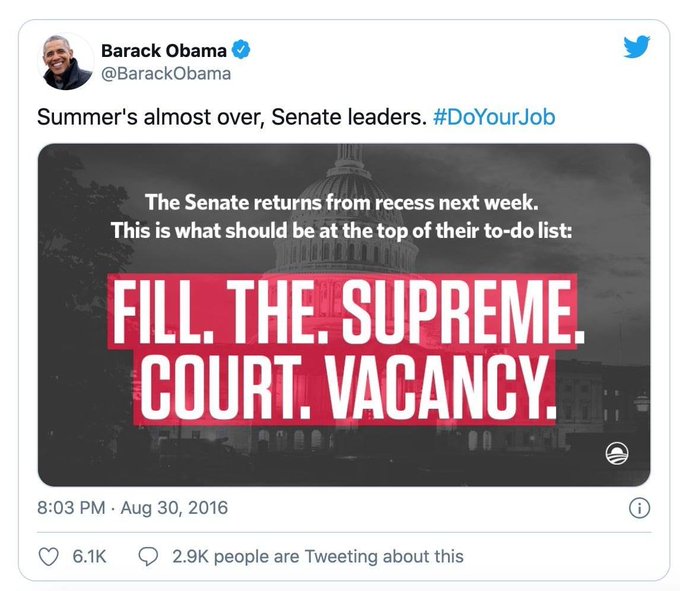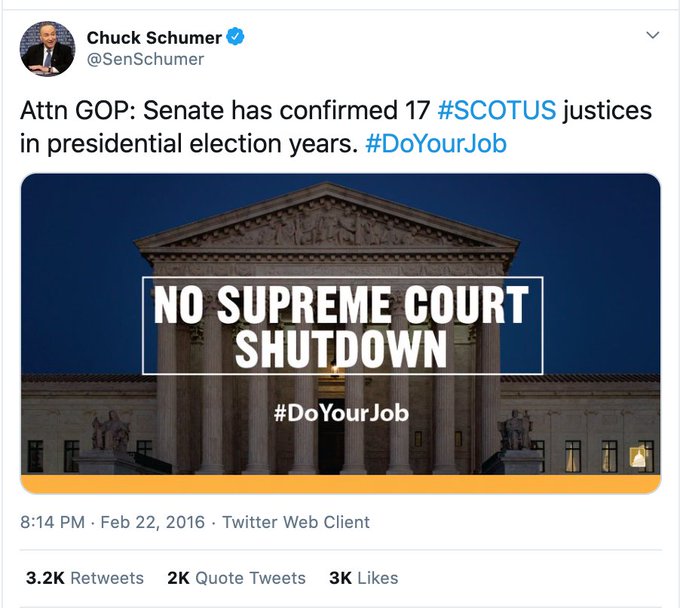 (Related: Video Resurfaces Of Biden Urging The Senate To Take Up A Vote On SCOTUS Nominee Garland In 2016)