Rep. Marjorie Taylor Greene (R-GA) on Friday announced that she has introduced "three impeachment resolutions" against 78-year-old Democrat Joe Biden amid his mounting problems, regarding the chaotic evacuation in Afghanistan, the ongoing crisis at the U.S. southern border, and ignoring the Supreme Court of the United States.
The Georgia congresswoman said she introduced the "impeachment resolutions against Biden for his dereliction of duty in Afghanistan, his violations of immigration law causing a national security crisis on our Southern border, and his usurping of Congressional power by ignoring the SCOTUS."
---
In a press release, Rep. Greene said:
In seven short months, Joe Biden has caused America to lose the respect of the entire world. The evidence is clear and his actions are so egregious that he must be impeached."
In Afghanistan, Biden's woke generals tucked their tale and ran. He dishonored the sacrifices made every American solider who fought in the 20-year war, especially those who gave their life for the cause. Biden left behind over 10,000 American citizens to face the terrifying rule of the Taliban as they impose Sharia law across the country. No commander-in-chief should leave Americans behind in the aftermath of a failure.
On our Southern Border, Joe Biden has allowed hundreds of thousands, if not millions, of illegal aliens into our country. His administration, along with Kamala Harris, has violated our immigration laws, deprived our Border Patrol of manpower and resources, and created a national security crisis by allowing unknown foreign nationals into our country who wish to do harm to America. Continued Below
---
Across the country, Americans are facing an economic crisis created by tyrannical Democrat politicians. Joe Biden, acting as a pseudo-dictator, has ignored the Supreme Court and issued his own eviction moratorium. He is shredding the Constitution and usurping the balance of power by issuing an edict the Supreme Court declared was a power of Congress.  
This is a process no one wants to go through, but it is a necessary process for the safety and security of the country and the American people. 
We are a nation in distress. Our foreign allies and even our own citizens can no longer trust our government in the hands of Joe Biden. It's the duty of Congress to hold the president accountable when he puts our nation at risk and ignores the rule of law. Continued Below
---
Currently our government is illegitimate because it is no longer serving its citizens. We have to restore respect for America in order for our allies and our citizens to trust the government.
Joe Biden must be impeached, tried in the Senate, convicted, and removed from office.
Rep. Marjorie Taylor Greene's full press release: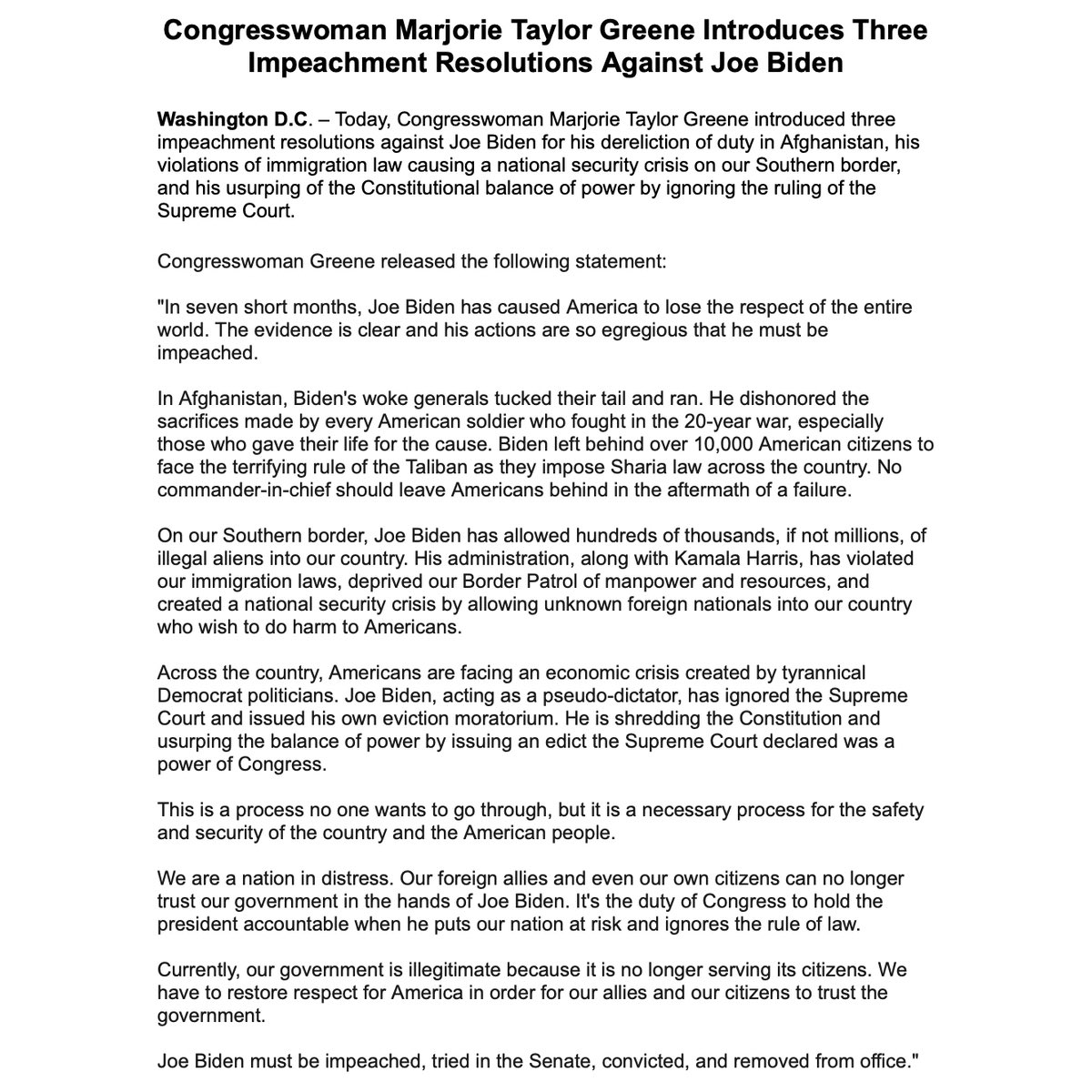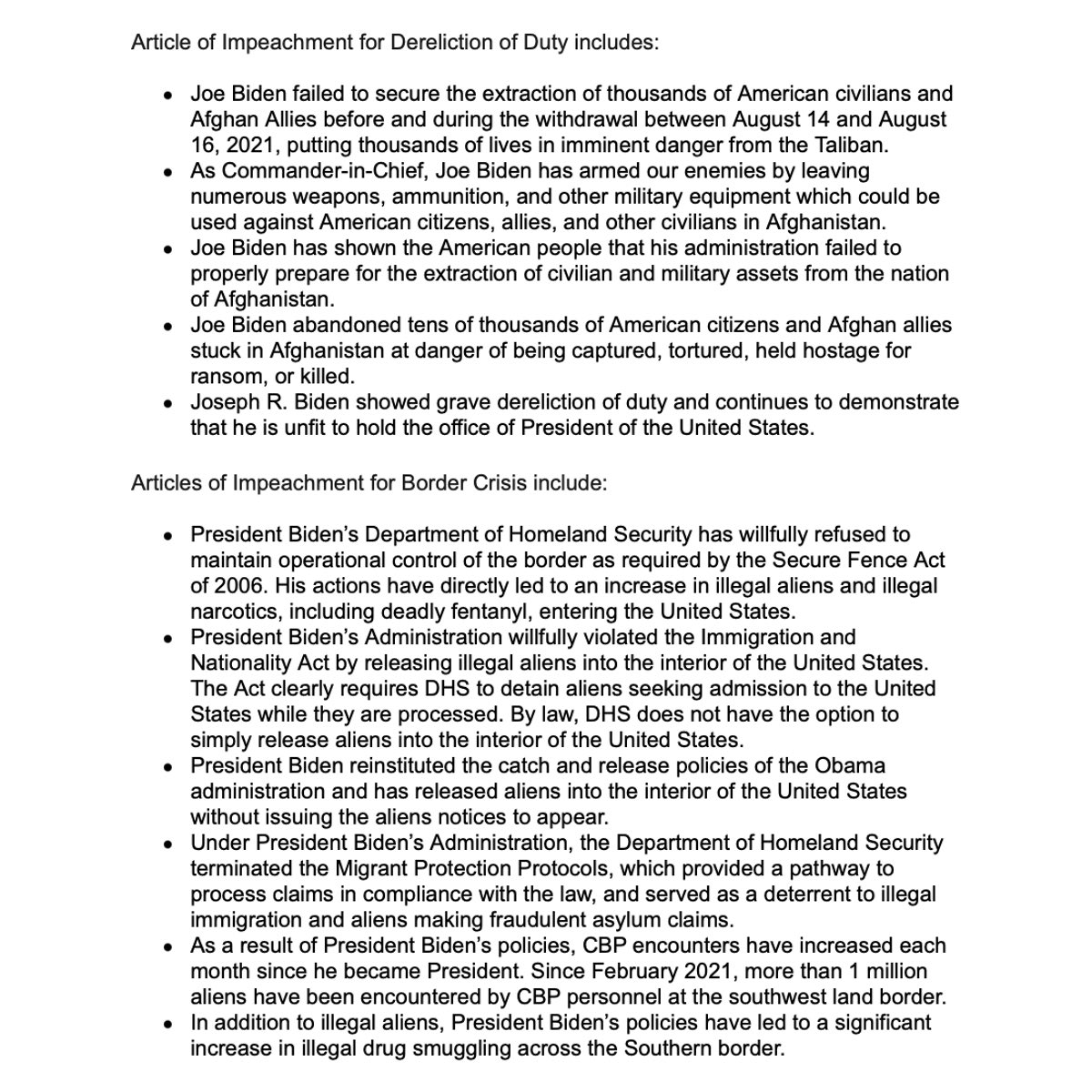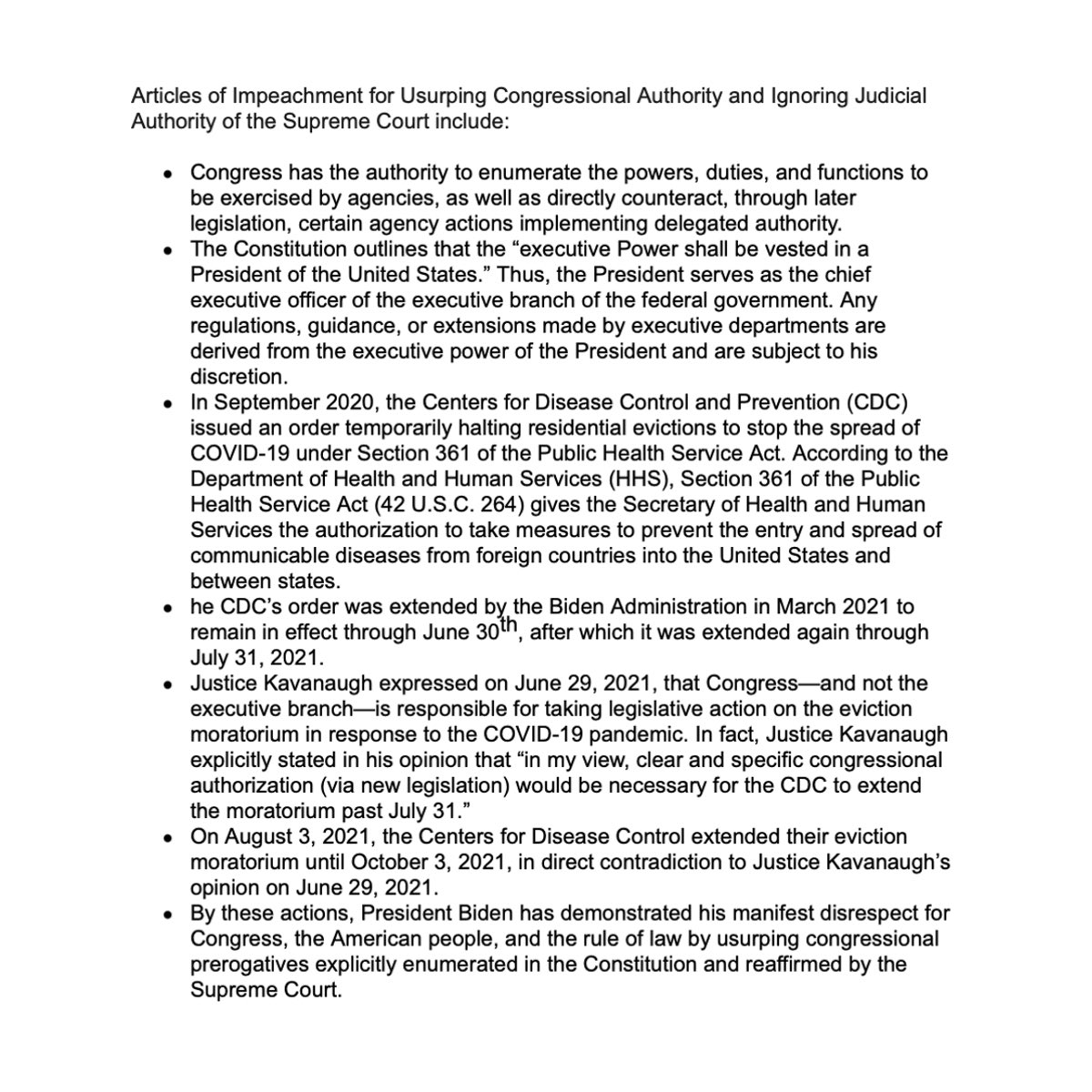 Continued Below
---
#ImpeachBiden https://t.co/7SvIAeZw1e

— Marjorie Taylor Greene 🇺🇸 (@mtgreenee) August 20, 2021
In January, Rep. Greene also filed Articles of Impeachment against Joe Biden "for abuse of power" because "Joe Biden is on record for abusing his office and abusing the positions he holds", she said.
---
Rep. Greene was referring to when Joe Biden, during a January 2018 appearance at the Council on Foreign Relations stated: "I said, I'm telling you, you're not getting the billion dollars. I said, you're not getting the billion. I'm going to be leaving here in, I think it was about six hours. I looked at them and said: I'm leaving in six hours."
"If the prosecutor is not fired, you're not getting the money. Well, son of a bitch. He got fired. And they put in place someone who was solid at the time," he admitted.
The Senate released an 87 page report titled: "Hunter Biden, Burisma, and Corruption: The Impact on U.S. Government Policy and Related Concerns")
Quid Pro Joe, in his own words…

Americans will not tolerate this.#QuidProJoe#BidenCrimeFamily#ImpeachBiden pic.twitter.com/wAOITlEk1N

— Marjorie Taylor Greene 🇺🇸 (@mtgreenee) January 14, 2021
(Related: Pelosi Claims Trump Is To Blame For Border Crisis, Rep. Greene Reacts: "She Can't Hide The Truth")