As we wait for the confirmation of Judge Brett Kavanaugh, the left-wing media and democratic senators continue their three-ring circus show.
It should come as no surprise the lengths democrats have pulled to try and ruin a conservative mans life. (Video Below)
Judge Brett Kavanaugh has confirmed in a letter that he will appear before the Senate Judiciary Committee on Monday, remaining committed to defending his integrity. His accuser, Christine Blasey Ford, on the other hand, remains unknown if and when she will testify.
Politico reports Brett Kavanaugh's accuser is getting advice by Democratic super-activist Ricki Seidman.
Seidman, currently an executive at a public relations company, has worked for the Dukakis, Mondale and Clinton campaigns for president.
She served as Joe Biden's communications director when he was named Barack Obama's running mate in the 2008 election, and managed the confirmation of Obama's Supreme Court justice nominee Sonia Sotomayor. Recently, Seidman served at the the executive director of the liberal voter turnout group Rock the Vote. (Video Below)
Seidman served in Bill Clinton's campaign's "war room" and served as deputy communications director in the Clinton White House, according to Politico.
Most importantly, Seidman is no stranger to high-profile fights over nominations to the Supreme Court by a Republican president. She cut her teeth running attack ads against Robert Bork, a nomination that was eventually derailed. She then moved to Democratic Sen., Per Daily Caller.
Ted Kennedy's office, where she was instrumental in convincing Anita Hill to go public with her claim that Clarence Thomas sexually harassed her, The Weekly Standard reports. Seidman was also instrumental in leaking the Hill story to the press, according to "The Real Anita Hill" by David Brock. (Video Below)
According to the Weekly Standard:
As legal director for Norman Lear's People for the American Way, she was responsible for the infamous attack-ad on the judicial record of Supreme Court nominee Robert Bork. She next moved to Senator Edward Kennedy's office shortly after Clarence Thomas was nominated to the Supreme Court, and she is credited with pressuring the reluctant Anita Hill to come out with her harassment story. When the Judiciary Committee failed to listen, according to David Brock's The Real Anita Hill, Seidman helped leak the story to the press.
Further, Democratic operative Ricki Seidman, who Politico reports is now advising Kavanaugh's accuser, was recorded in July plotting a strategy to defeat Judge Kavanaugh.
(Video Below)

Listen to this:
Democratic operative Ricki Seidman, who Politico reports is now advising Kavanaugh's accuser, was recorded in July plotting a strategy to defeat Judge Kavanaughpic.twitter.com/JHEvCfIQDe

— Ryan Saavedra (@RealSaavedra) September 20, 2018
Grassley (R-IA) to Feinstein (D-CA) – Chances to ask Kavanaugh about Ford's allegations:
•8/20 Feinstein-Kavanaugh meeting
•Late-Aug background investigation phone calls
•32 hrs of testimony
•Closed session of confirmation hearings
•1,300 post-hearing written questions
(Continued Below)
Judge Brett Kavaugh's letter to Chairman Chuck Grassley: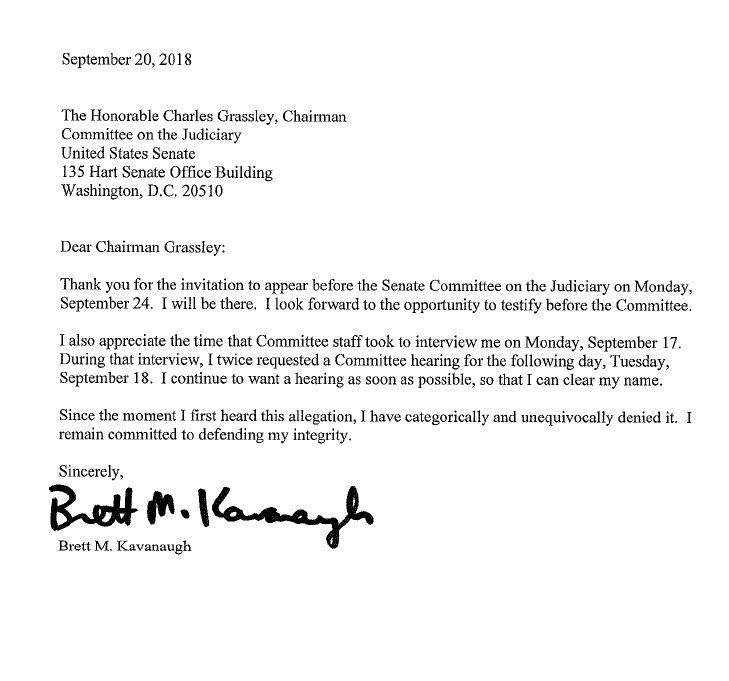 We are ready for the shenanigans to end. It's time to confirm Judge Brett Kavanaugh.
(H/T Daily Caller)